Roistat Features¶
Roistat helps you increase the profitability of your business and decrease marketing costs. Our analytical system lets you find ineffective channels and control the key metrics of your business.  
Analytics¶
Roistat gathers data to analyze the efficiency of your business based on 30+ metrics. You can see the results in user-friendly charts and reports.
Track the effectiveness of advertising channels, price comparison sites, and social media posts.
Find out which keywords lead to sales, how much revenue each channel generates, which employees fail to close deals, and much more.
Generate reports on any metrics of your business and export them to Microsoft Excel.
Use the Calendar of activities to mark the days of launching the marketing campaigns from Analytics reports. This will help you evaluate how much marketing campaigns affect the performance of your business.
If it's impossible to automatically upload costs from marketing channels, enter this data manually.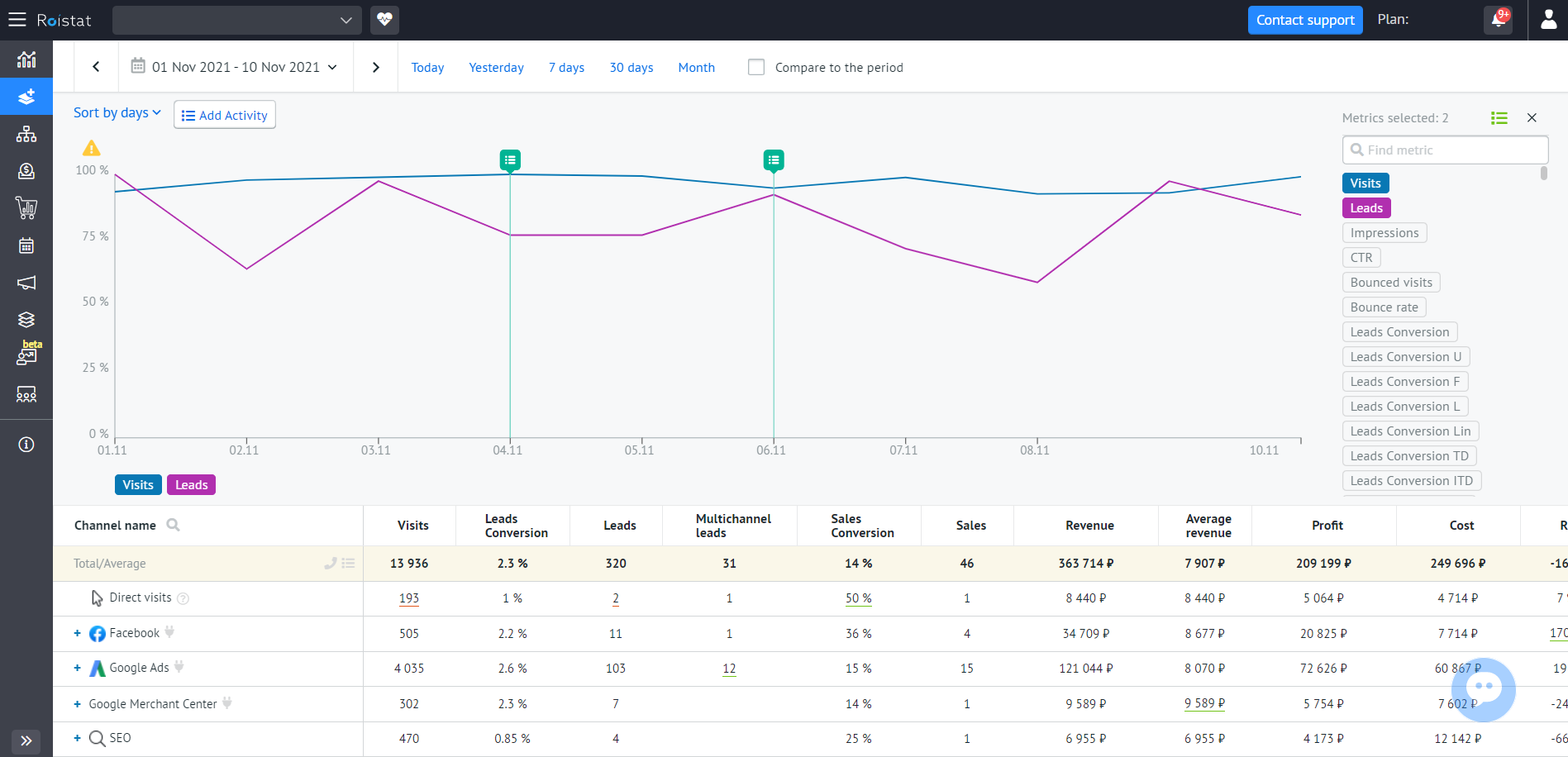 Multi-Channel Analytics¶
If a client comes to your website several times from different marketing channels, you can underestimate the efficiency of some channels. Also, if your client enters the same contact information from different devices, the visit ID will be different each time. Roistat tracks such clients and connects their visits, forming a chain of visit IDs in chronological order.
Using Multi-Channel Analytics, you can form a report that will show you the real efficiency of your marketing channels. The data is based on a chain of visit IDs that have been converted to a lead.
With the help of Multi-Channel Analytics, you can get an accurate view of the marketing channel's profitability, even if it seemed non-effective at first glance.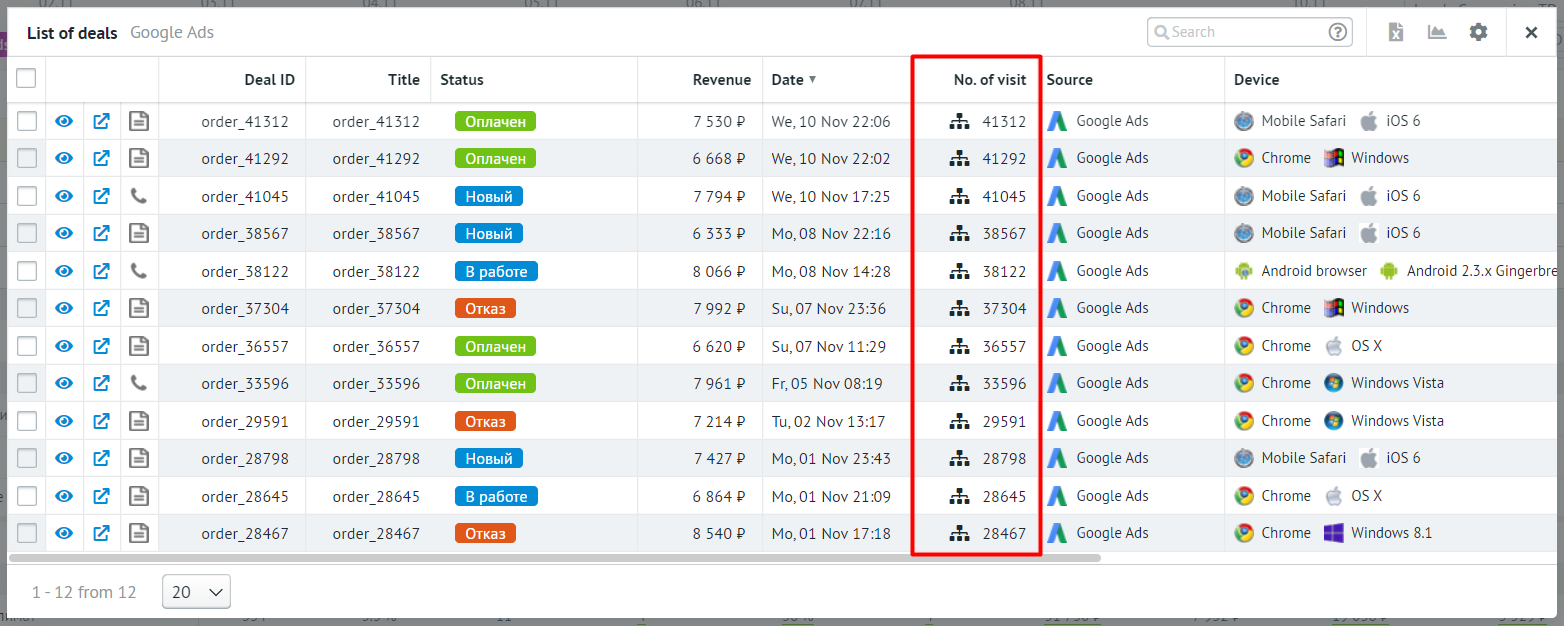 More about Multi-Channel Analytics
Events¶
The Events feature lets you track user activity on your website, as well as in your apps, marketing emails, and CRM. The list of events can include opening the shopping cart, visiting a webpage, using a contact form, and much more.
Events will help you analyze users' behavior and find the weak points where users have difficulties. This way, you can improve user experience and increase sales.

Calltracking¶
The Calltracking feature lets you track the sources of the leads that were created from phone calls.
Dynamic Calltracking allows to track the lead sources up to the keyword. Static Calltracking can track the lead sources up to the marketing channel.
Create a Calltracking script, so that Roistat gets the information about the lead source for every incoming call. This information will be displayed on a dashboard and in the call history.
Configure lead creation in CRM and send call information to Google Analytics.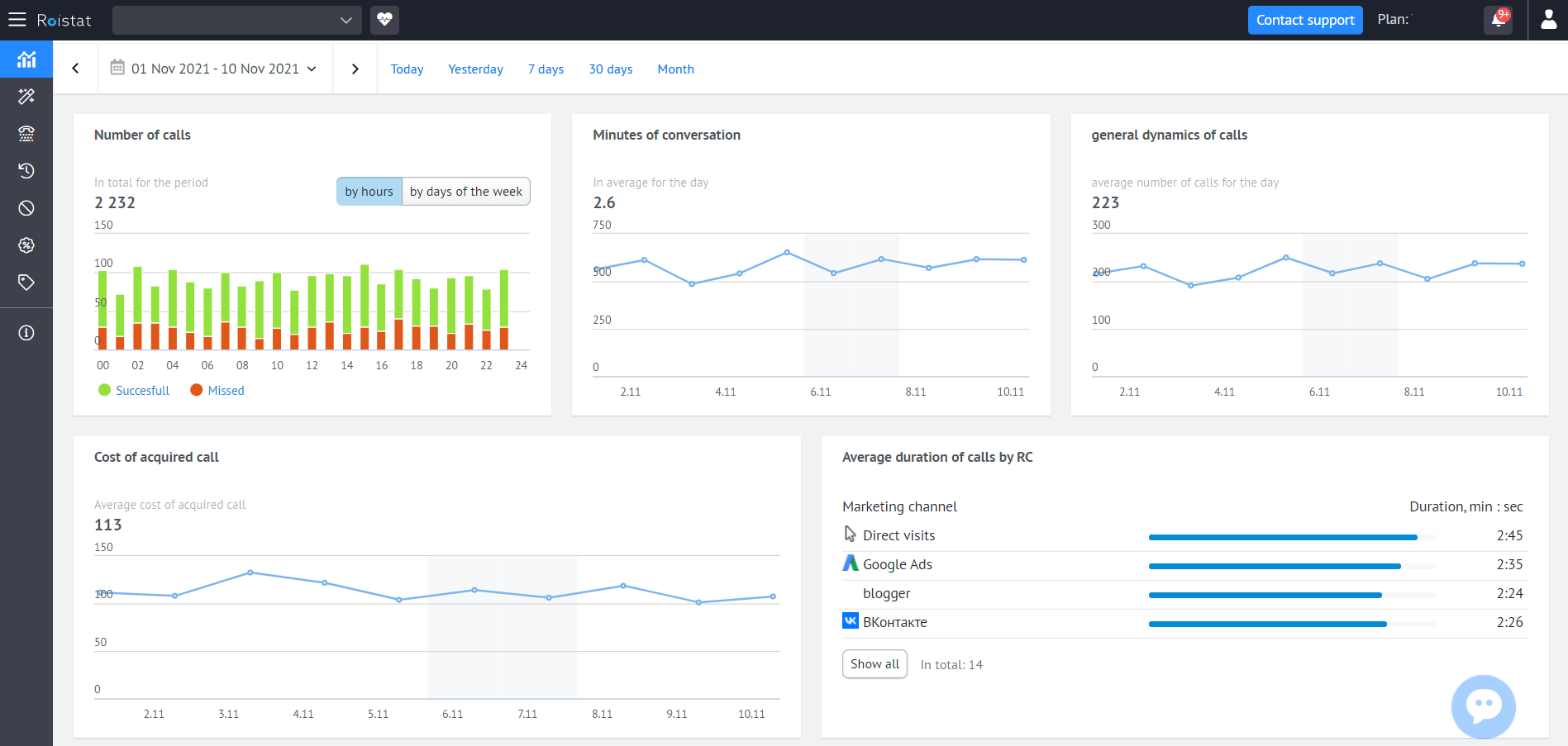 Lead Hunter¶
Lead Hunter is a contact form that appears on your website page after a specified amount of time. In the form, you can ask for contact information and offer a callback.
Website visitors can order a callback using the callback button.
Send the notifications about the leads from Lead Hunter to your email, Telegram, or CRM, so you can contact customers promptly.
Roistat collects the information about leads from Lead Hunter and provides illustrative statistics, so you won't lose a potential client.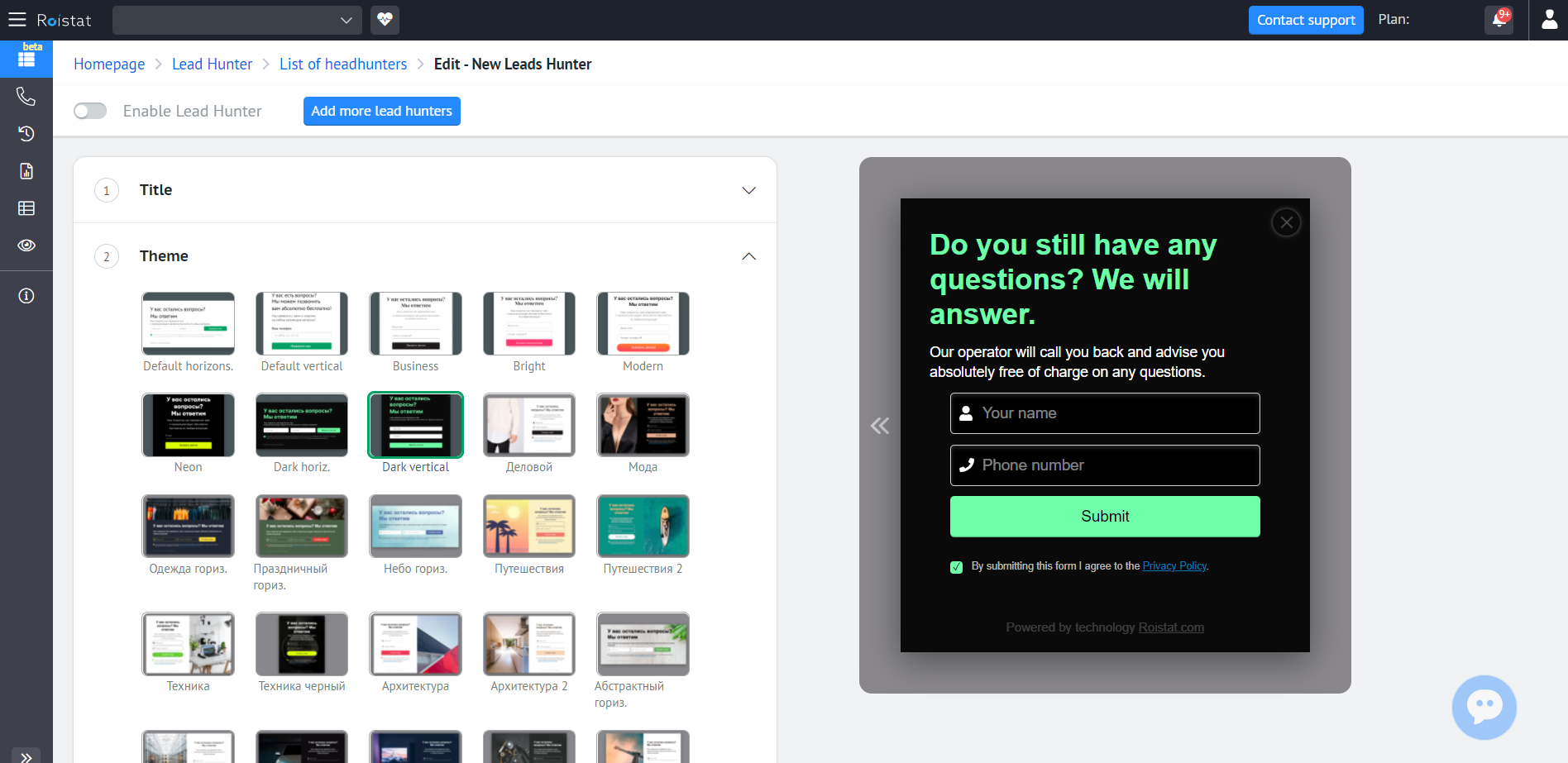 Online Chat¶
Online Chat is a widget that allows you to communicate with your clients on a website in real time. You can specify the chat working hours, create reply templates, view detailed statistics on chats with clients, and evaluate the performance of your operators. You can also integrate the chat with your CRM and create leads based on data from chats.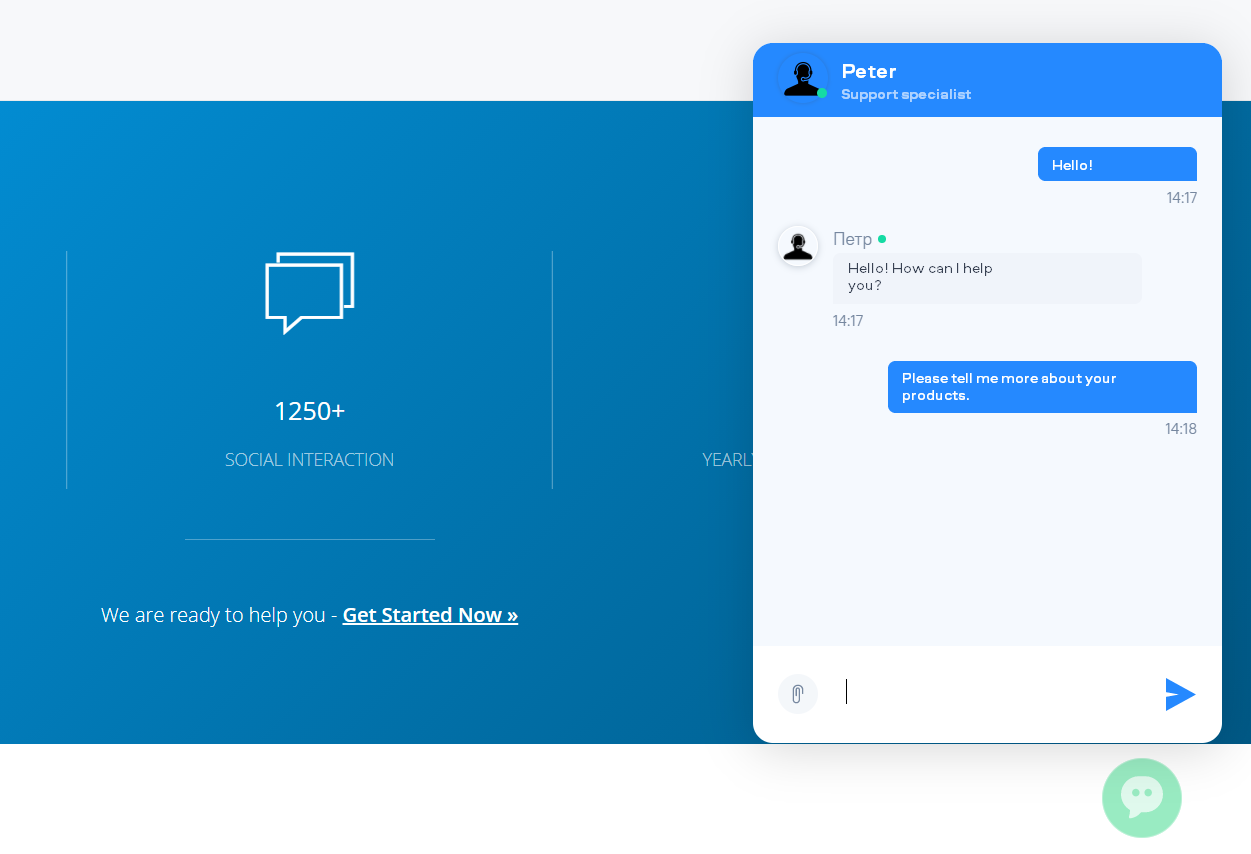 Marketing Automation¶
Marketing Automation lets you improve client relationships with the help of automatic actions. You can set an event triggered by a client's action (for example, when a client makes a purchase):
Emailing the client;
Sending a notification to Slack;
Assigning a task to an employee.

More about Marketing Automation
Emailtracking¶
Emailtracking lets you track the sources of the leads created from the emails.
Configure the Emailtracking parameters so that Roistat automatically checks your email, receives the information about the lead sources, and creates new leads in CRM.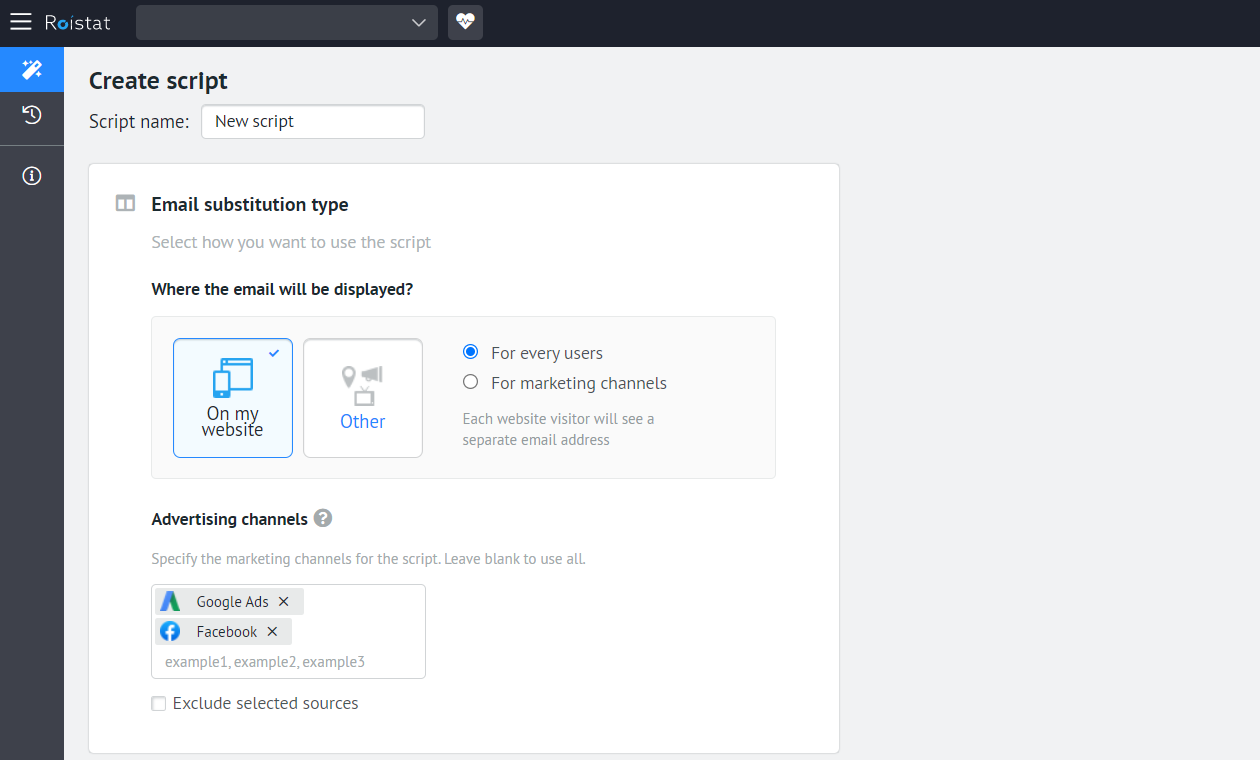 Cohort Analysis¶
Using the Cohort Analysis feature, you can analyze the metrics of your business by the unique groups of clients and display the patterns that are hard to see in the common Analytics reports.
For example, the common Analytics report says that the number of sales is increased in a certain period, and this period coincides with the period of a special offer. With the help of Cohort Analysis, you can see that the sales were made to the regular customers, and the number of sales to the new customers has not increased.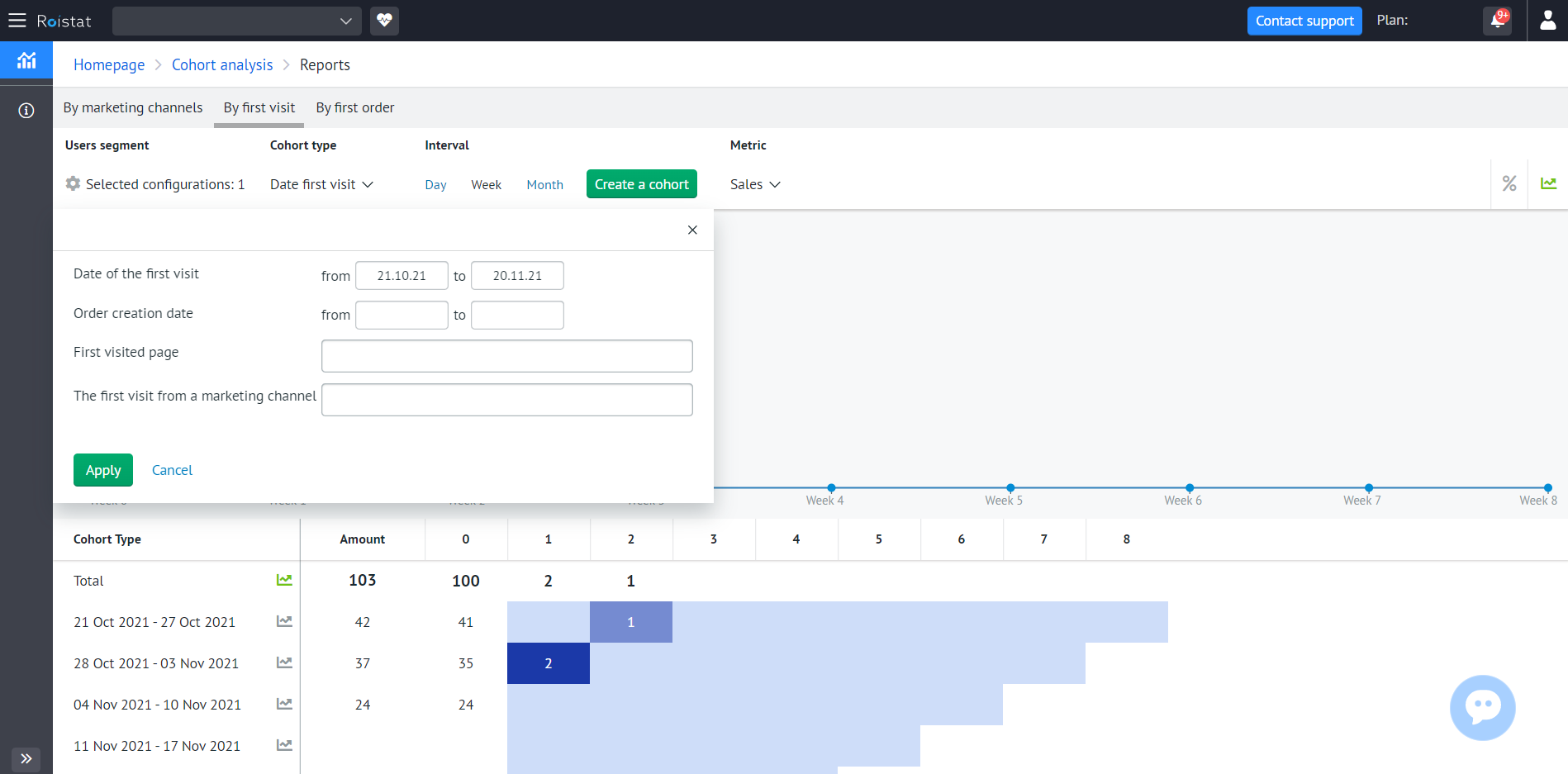 Radar¶
Radar lets you keep track of important metrics in a Roistat project without monitoring reports manually. You can set different notification scripts. A script includes:
A metric to follow;
A condition for sending a notification;
A time period for analyzing data;
Data filters (for example, you can specify the marketing channel);
Notification type and frequency.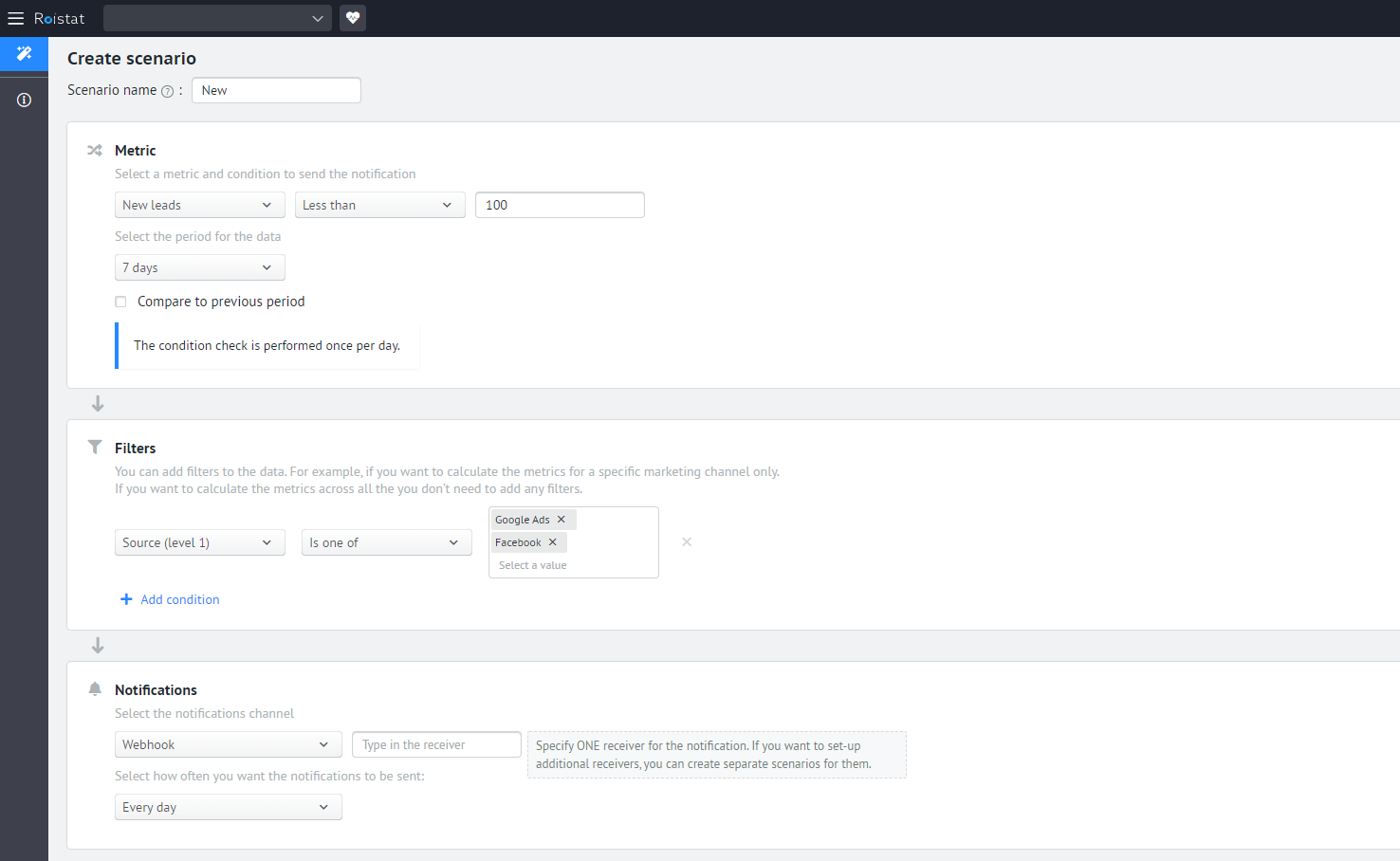 Client Management¶
Using the Client Management feature, you can load the list of clients from the integrated CRM/CMS systems.
Form up the segments of clients for different business objectives using the set of filters.
Save the parameter values for filters and enter the segment name to repeatedly form up the lists of clients for different business objectives.
Export the segmented client lists to Microsoft Excel.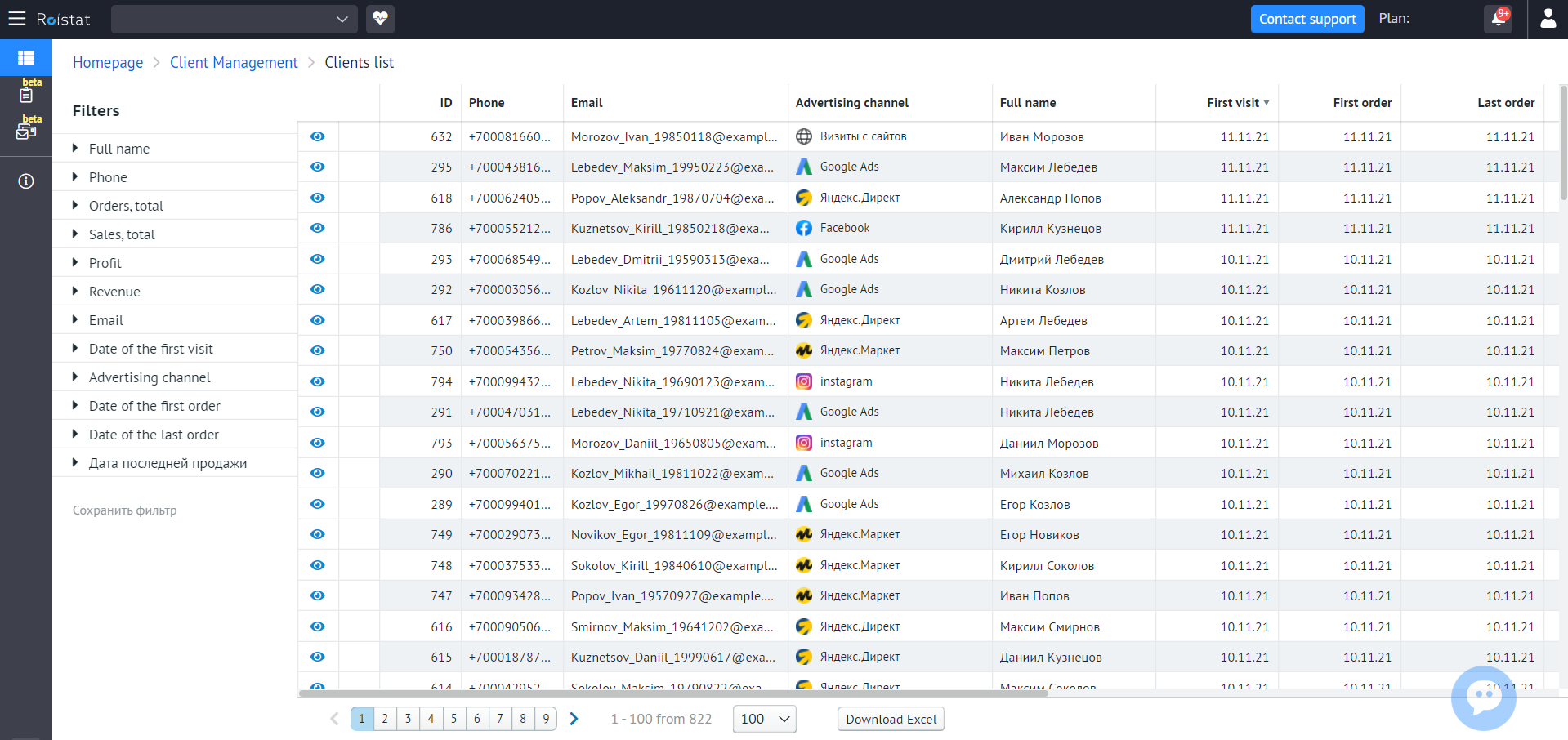 SEO Audit¶
SEO Audit lets you get more traffic from search engines. It automatically checks all your pages, finds SEO issues, and gives recommendations on how to solve them. By fixing SEO parameters, you can improve the ranking of your website in search results and increase revenue.

SMM Feed¶
SMM Feed combines comments and posts from different social media sources in a single window. This will help you work with social networks faster and more effectively. SMM Feed will also keep you from missing a potential customer's comment.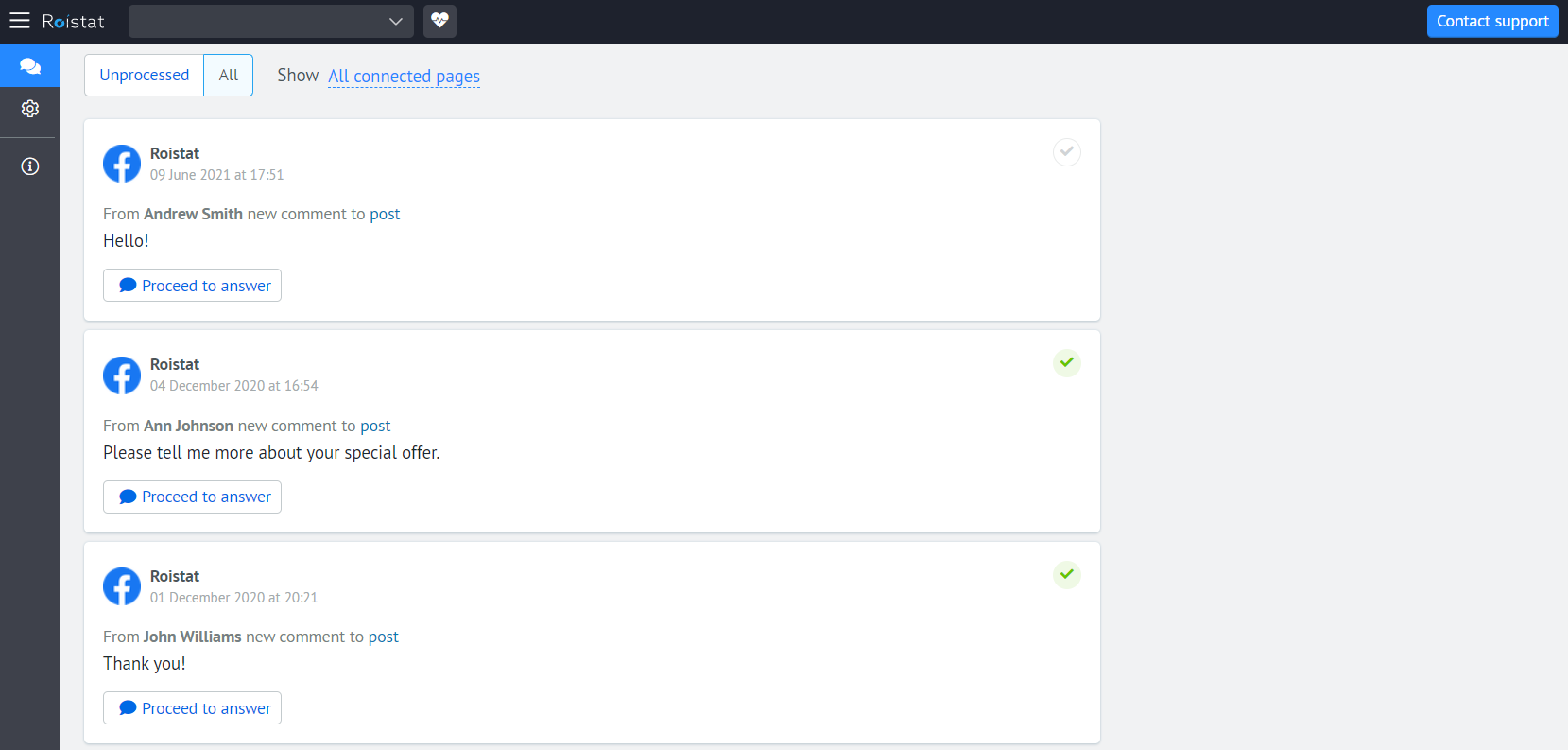 A/B Tests¶
With the help of A/B Tests, you can compare the profitability of the different versions of your website pages. You can change the key phrases, as well as the page elements structure and looks. Roistat gathers the data on business metrics for every version of the page and converts it to user-friendly reports.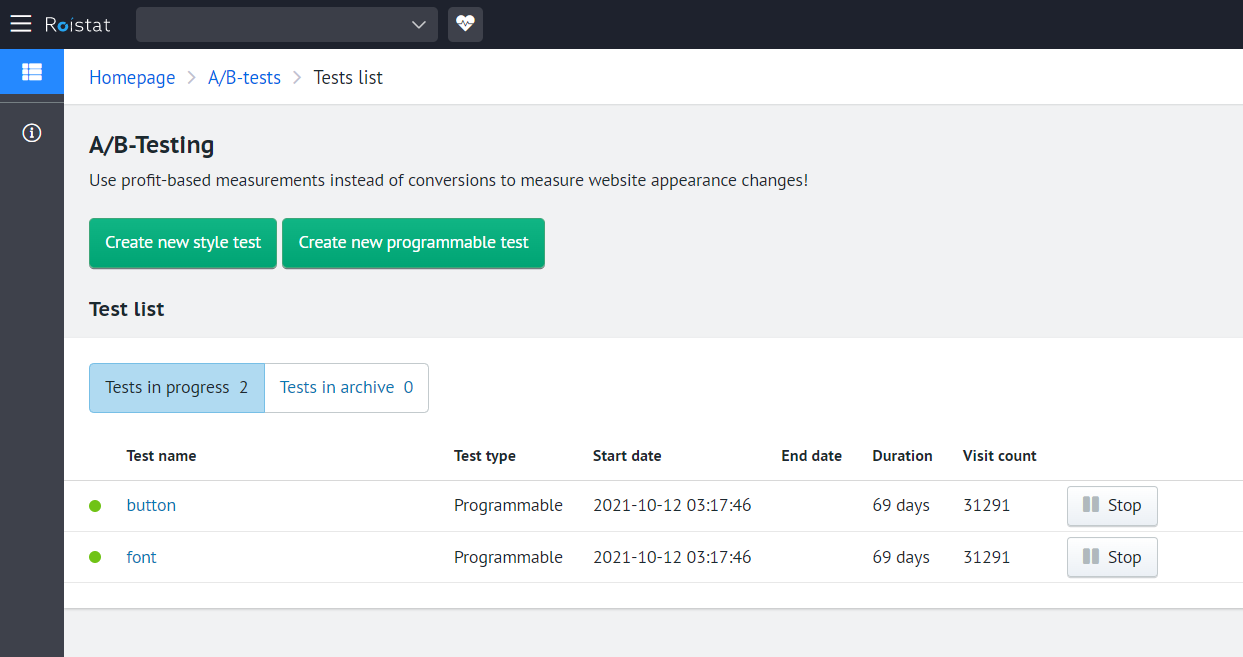 Integration with CRM/CMS and other services¶
To gather and analyze the information about your business performance, Roistat can be integrated with many services. The list of integrations is constantly being updated.